Category: Voice of Customer
This integration is only available for Web projects
ⓘ This is an early access beta integration
What to expect
This integration will allow you to segment users based on survey completions, and see their respective session replay links in the Zoho individual responses attributes. This is only relevant for embedded surveys. Feedbacks hosted on Zoho's domain are unsupported.

What we collect
Dynamic Variables
| | | |
| --- | --- | --- |
| Key | Value | Data Type |
| FB_ZH_Feedback Loaded | true | Text |
| FB_ZH_Feedback Completed | true | Text |
Artificial Pageviews
In order to have artificial pageviews triggered for these options below, you will need to ask your Contentsquare CSM or Support to enable a feature which will allow these to be sent. Note that these are specifically for usage in the Journey Analysis module of the Contentsquare application.
| | |
| --- | --- |
| Trigger | Query String |
| On Survey Load | cs_zoho=feedback_loaded |
What we send
Session replay
To properly make use of the replay feature you need to either have 100% collection ratio or ETR (Event Triggered Replay), please talk to your CSM about this.
URL Example: https://app.contentsquare.com/quick-playback/index.html?pid=3771&uu=cc912cdb-ee03-a739-a659-ad2a5b1f08bb&sn=12&pvid=1&recordingType=cs&vd=copa
Implementation
Implementation Steps
Please go to the section How to request an integration to see the instructions to enable this integration. You can then return here once completed.
If you have already completed the step above then continue below.
In the Zoho Survey Dashboard, go to Advanced Settings -> Custom Variables




Add a new custom variable with the following parameters and save-



URL Parameter: csreplaylink
Label: Contentsquare Replay Link


Verifying it works
You can use the chrome extension to check the results are sent to CS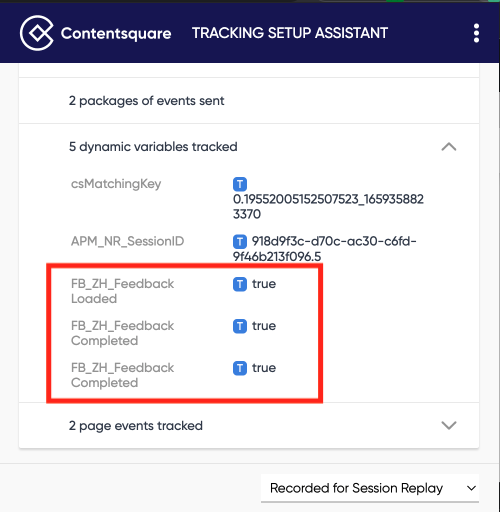 In Zoho, individuals that were selected for replay should display their session replay link under the survey's Individual Responses tab-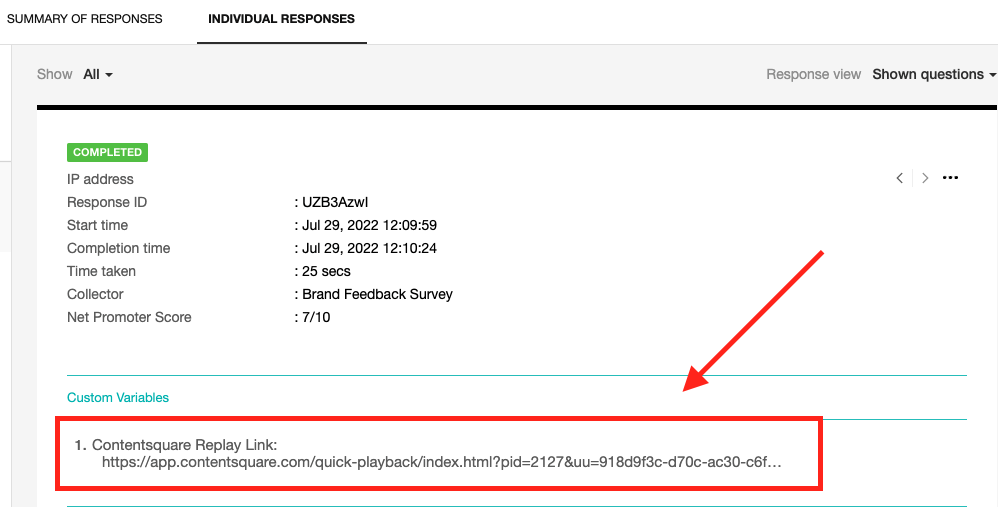 **The link appears cut off, but double clicking it allows for copying it in its entirety.